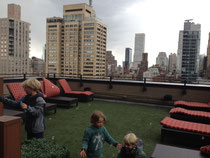 Arrival at 6 pm at JFK - taxi to Apartment. 2 minutes walk to nice little Italian restaurant for dinner. 2.5 min walk to 24/7 grocery shop and Duane for presents, gift wrappers, balloons, cake- 9 pm, table ready for birthday party tomorrow.
The transition from boat person to working mum, from one with nature to one among millions went fluently.
The kids love it, we love it. We crave for pace, people, possibilities. All amenities, dish washer, bath tub, are highly appreciated. We are looking forward to visiting all the great sights and events of NYC. But, admittedly, not only the kids shed hot tears when we left Philocat Ena, dry and deserted, at Nanny Cay Boatyard!